The Patriots will be looking for their 10th consecutive division title when they play out their 2018 schedule. When they're not playing the AFC East this season, for the most part they'll be facing the AFC South and NFC North.
New England's marquee games remain those against Pittsburgh and Kansas City, their fellow first-place AFC teams from 2017. But it also has couple much-anticipated inter-conference match-ups this season.
Here's looking at all the games on the Patriots' 2018 slate and an early projection of how their season will play out.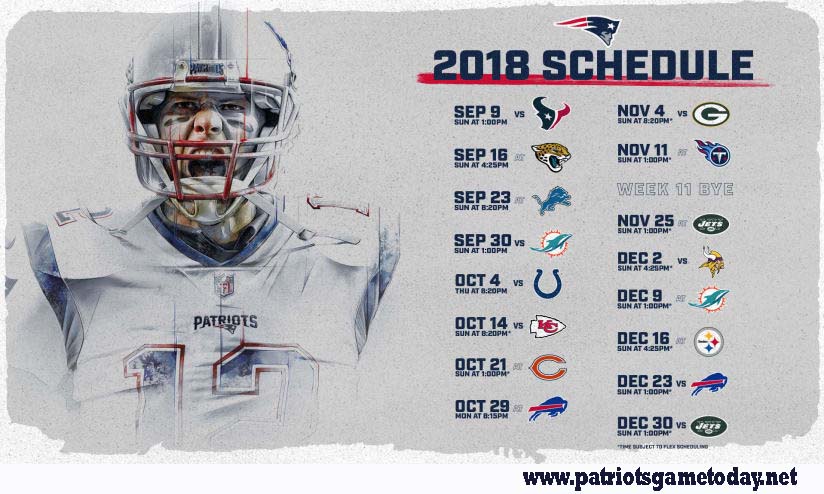 Patriots schedule 2018

Date
Opponent
Kickoff time
TV network
Sept. 9
vs. Houston Texans
1 p.m.
(CBS)
Sept. 16
at Jacksonville Jaguars
4:25 p.m.
(CBS)
Sept. 23
at Detroit Lions
8:20 p.m.
(NBC)
Sept. 30
vs. Miami Dolphins
1 p.m.
(CBS)
Oct. 4
vs. Indianapolis Colts
8:20 p.m.
(FOX/NFLN)
Oct. 14
vs. Kansas City Chiefs
8:20 p.m.
(NBC)
Oct. 21
at Chicago Bears
1 p.m.
(CBS)
Oct. 29
at Buffalo Bills
8:15 p.m.
(ESPN)
Nov. 4
vs. Green Bay Packers
8:20 p.m.
(NBC)
Nov. 11
at Tennessee Titans
1 p.m.
(CBS)
Nov. 18
BYE
Nov. 25
at New York Jets
1 p.m.
(CBS)
Dec. 2
vs. Minnesota Vikings
4:25 p.m.
(FOX)
Dec. 9
at Miami Dolphins
1 p.m.
(CBS)
Dec. 16
at Pittsburgh Steelers
4:25 p.m.
(CBS)
Dec. 23
vs. Buffalo Bills
1 p.m.
(CBS)
Dec. 30
vs. New York Jets
1 p.m.
(CBS)
Analysis
The Patriots are going to look different in 2018.
The Miami Dolphins signed wide receiver Danny Amendola, the New York Giants signed offensive tackle Nate Solder and the Tennessee Titans signed running back Dion Lewis. The Titans also added cornerback Malcolm Butler after he was benched on defense during the Super Bowl.
Butler wasn't the only impact player the Patriots lost, as they traded wide receiver Brandin Cooks to the Los Angeles Rams.
It wasn't all personnel losses for New England. The team traded for Cordarrelle Patterson, signed Jordan Matthews and will have wide receiver Julian Edelman back after he missed the 2017 campaign with a torn ACL.
Even with the roster upheaval, the presence of Brady, tight end Rob Gronkowski and head coach Bill Belichick makes it difficult to envision any other team winning the AFC East this season.
That is assuming Brady and Gronkowski will still be playing, which is apparently not a guarantee at this point. Adam Schefter of ESPN reported Wednesday the signal-caller "still has not committed to playing in 2018, even though people who know him believe he will be back for the coming season." Schefter also reported Gronkowski hasn't officially decided if he will play either.
If they do play, the Brady and Gronkowski combination will need to put up a significant amount of points with a defense that was a mere 29th in the league in yards allowed in 2017 tasked with facing the likes of Aaron Rodgers, Andrew Luck and Ben Roethlisberger, among others, but arguably the greatest quarterback of all time has made a living doing just that
Toughest tests: The Jaguars and Steelers present the toughest road games, but Aaron Rodgers' Packers and Kirk Cousins' Vikings will be excellent duels with Tom Brady on his home field. The Texans also gave the Patriots a test with Deshaun Watson in New England last season.
Biggest breaks: The AFC East competition helps the Patriots again, as they should sweep the Bills, Dolphins and Jets. Even though Buffalo made the playoffs last season, it's not the same team this year, and both Miami and New York will be bad again. Taking away New England, the division remains weak.
Bottom line: Talking about the Patriots' record is like a broken record no matter their opponents. The reigning AFC champions face teams that combined for a 124-132 record last season, tied for the 10th easiest strength of schedule in the NFL. New England will roll in another big season with Brady for another No. 1 or No. 2 playoff seed. Record prediction: 13-3