New England Patriots Schedule 2017: Games and Dates
The New England Patriots Game have had their full 2017 schedule released.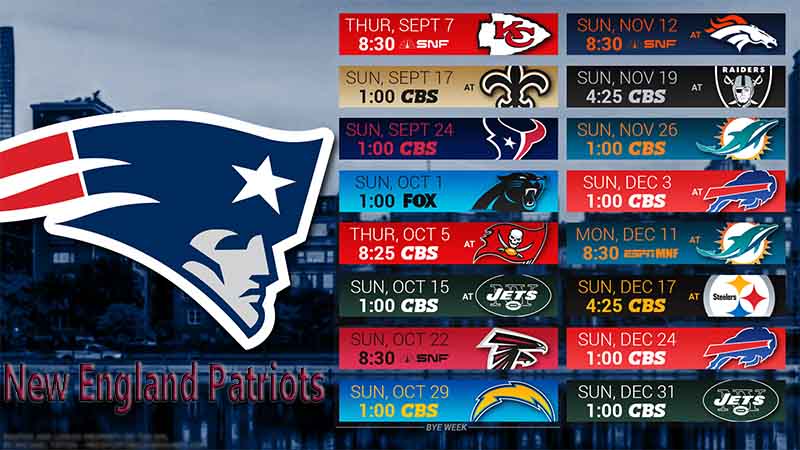 The Patriots will open the season Thursday, Sept. 7 against the Kansas City Chiefs at Gillette Stadium in Foxborough, Massachusetts.
The Patriots will play the New York Jets in their AFC East opener on Oct. 15. They will play the Miami Dolphins in their AFC East home opener on Nov. 26.
The Patriots will have their bye week Nov. 5 between the Los Angeles Chargers (Oct. 29) and at Denver Broncos (Nov. 12) games. They will close out the regular season against the New York Jets on Dec. 31.
Game times/dates for Weeks 5-17 games are subject to change.
The Super Bowl will be played at U.S. Bank Stadium in Minneapolis, Minnesota.
New England Patriots Schedule 2017

Sept. 7: Kansas City Chiefs (8:30 p.m. ET, NBC)
Sept. 17: at New Orleans Saints (1 p.m. ET, CBS)
Sept. 24: Houston Texans (1 p.m. ET, CBS)
Oct. 1: Carolina Panthers (1 p.m. ET, FOX)
Oct. 5: at Tampa Bay Buccaneers (8:25 p.m. ET, CBS/NFL Network)
Oct. 15: at New York Jets (1 p.m. ET, CBS)
Oct. 22: Atlanta Falcons (1 p.m. ET, CBS)
Oct. 29: Los Angeles Chargers (1 p.m. ET, CBS)
Nov. 5: BYE
Nov. 12: at Denver Broncos (8:30 p.m. ET, NBC)
Nov. 19: at Oakland Raiders (Mexico City; 4:25 p.m. ET, CBS)
Nov. 26: Miami Dolphins (1 p.m. ET, CBS)
Dec. 3: at Buffalo Bills (1 p.m. ET, CBS)
Dec. 11: at Miami Dolphins (8:30 p.m. ET, ESPN)
Dec. 17: at Pittsburgh Steelers (4:25 p.m. ET, CBS)
Dec. 24: Buffalo Bills (1 p.m. ET, CBS)
Dec. 31: New York Jets (1 p.m. ET, CBS)
Preseason
Aug. 10: Jacksonville Jaguars (7:30 p.m. ET, WBZ/PPN)
Aug. 17: at Houston Texans (8 p.m. ET, WBZ/PPN)
Aug. 26: at Detroit Lions (7 p.m. ET, WBZ/PPN)
Aug. 31: New York Giants (7:30 p.m. ET, WBZ/PPN)
Other Posts :